Pre-Owned Forklifts in the Northeast Ohio Area
Depending on your specific job or needs, a
new forklift
may not always be the right answer. There are several reasons why purchasing a pre-owned forklift can make more sense, including savings on your equipment costs and operating budgets. At The A.J. Gates Company, our pre-owned forklift inventory serves clients across the northeast Ohio area, including Cuyahoga, Lake, Huron, Lorain, Geauga, Erie, Sandusky and Ashtabula counties.
Types of Pre-Owned Forklifts
When it comes to the needs of your business, having the right type of forklift can make all the difference. We offer our clients the following types of pre-owned forklifts, each with its own unique advantages:
Electric Forklift
This environmentally friendly option uses a rechargeable industrial battery to power the motors. Compared to internal combustion forklifts, electric forklifts use less energy and create fewer emissions, making them an ideal machine for industrial and warehouse projects. Many electric forklifts can be used both inside and outdoors. These machines have fewer wear parts, so they will not require as much maintenance.
Internal Combustion Forklift
Much like the engine on a car or truck, this type of forklift uses fuel to operate. It can be used indoors or outdoors and tends to have a higher load capacity. These features enable the forklift to be applied to a wide range of jobs and environments – without compromising its ability to operate safely. A forklift with an internal combustion engine can be refueled in about five minutes, allowing it to be used efficiently throughout multiple shifts.
Why Buy a Pre-Owned Forklift?
Not sure whether you should buy new or pre-owned? The A.J. Gates Company is here to help you decide on the best fit for your business. Our pre-owned forklifts offer a host of great benefits, including:
The potential to save you money: Consider all the ongoing costs of running your business. It may become apparent that investing in a brand-new piece of equipment is an unnecessary luxury. A pre-owned forklift often will be more affordable than a brand-new model.
Quicker purchasing process: Typically, buying a new forklift can be a lengthy process. If your previous equipment goes down and you are in a pinch, this could be problematic. When purchasing a pre-owned forklift, you will typically acquire it faster and be able to start using it right away.
Tested durability: When you purchase a pre-owned forklift, you have the advantage of researching the reliability of that specific make and model. Plus, at The. A. J. Gates Company, our inventory features top, trusted brands, such as Doosan, Komatsu, Hyundai and more.
Learn More about our Pre-Owned Forklift Selection and Services
Keep your business operations running smoothly and save yourself money when you purchase one of our pre-owned forklifts. The A.J. Gates Company in Solon proudly serves clients in northeastern Ohio, including Cuyahoga, Lake, Huron, Lorain, Geauga, Erie, Sandusky and Ashtabula counties. To learn more about our forklift selection and our other products, please contact us today.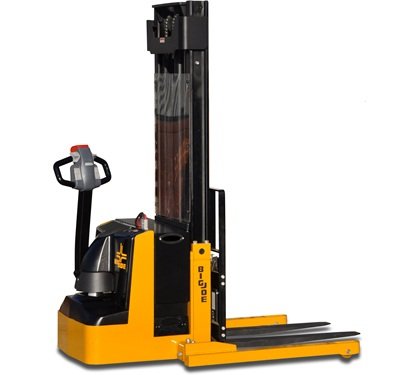 Condition: New
Warranty: 24 Month / 1,000 hour limited
Capacity: 2,500 lbs
Type: Walkie Straddle Stacker
$10,685.00
View Details Roller Dimension: 18'' wide, outside width 38'', depth 40''
Condition: Nice, Gently Used
Model: PSBS18-2
Heavy-duty construction
$425 each

View Details
3 Stage Mast 188'' Overall Lift Height
42'' Forks
36 Volt
Electric 3Wheel
3679+ Hrs
60 Day Warranty
$14,300.00

View Details
See anything you like? Contact us for price and availability. Our preowned inventory sells rapidly and oftern changes by the day. Even if you do not see what you need, give us a call! Should we not have the unit that you require in stock, our representative will let you know when one will be available. Off lease equipment and trade-ins come in on a regular basis. Email us at sales@ajgates.com or call us at 800.272.0771.