In many cases a new forklift may not be the answer to your needs. Do you need a forklift for only a few hours per day? Do you have specific budget constraints? These variables would definitely make purchasing a preowned forklift a strong consideration. We have a number of good forklifts that have either come back after lease termination or trade-ins from new purchases. All of our preowned equipment has been thoroughly inspected and comes with a warranty based on the hour meter readings from the prior ownership. Whether your needs are electric, propane or diesel, we have the resources to fit your application.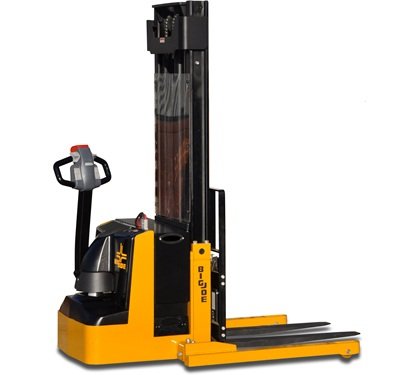 Condition: New
Warranty: 24 Month / 1,000 hour limited
Capacity: 2,500 lbs
Type: Walkie Straddle Stacker
$10,685.00
View Details Roller Dimension: 18'' wide, outside width 38'', depth 40''
Condition: Nice, Gently Used
Model: PSBS18-2
Heavy-duty construction
$425 each

View Details
3 Stage Mast 188'' Overall Lift Height
42'' Forks
36 Volt
Electric 3Wheel
3679+ Hrs
60 Day Warranty
$14,300.00

View Details
See anything you like? Contact us for price and availability. Our preowned inventory sells rapidly and oftern changes by the day. Even if you do not see what you need, give us a call! Should we not have the unit that you require in stock, our representative will let you know when one will be available. Off lease equipment and trade-ins come in on a regular basis. Email us at sales@ajgates.com or call us at 800.272.0771.