sweeper & scrubber rentals
advance sweepers & scrubbers
We at the A.J. Gates Company are proud to represent Nilfisk Advance, Inc. The Advance product is an industry leader, specializing in "state of the art" industrial sweepers and scrubbers. Whether you have the need for a short-term rental or require that new purchase, we supply the equipment to meet your needs.
We employ a skilled sales staff, specifically trained to review your cleaning requirements and provide the proper unit for the job. In addition to the cleaning machine, we supply a fill line of brushes to handle your specific floor. Our sales staff will also recommend and supply you with the best cleaning detergent to get your floor shining!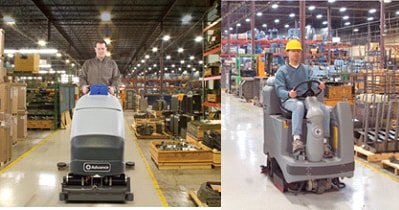 Nilfisk Advance offers sweepers and scrubbers in many designs and brush sizes. When deciding the right unit for the job, call us! Our sales people are trained to ask you the right questions! How many square feet is your warehouse? What are the width dimensions of your open aisles? What type of floor do you have? These are just a few of the questions they will ask in order to determine the sweeper or scrubber physical size needed, and the proper detergent to use.
Whether the choice be a sweeper or scrubber, we sell both walk behind and rider equipment. In addition, when in doubt regarding what you need call us! Our sales staff is available to come to your facility, measure the application and provide you with the best options.