There are many times when an extra forklift or a specialty piece of equipment may be needed. Maybe the end of the month crunch requires an additional forklift. Possibly a maintenance project requires high lifting. You may even have a seasonal floor clean up that needs to be done. In many cases, based on your usage needs, buying the equipment for a special need is not a sound business decision.
rentals may be the best solution
Are you looking to rent forklifts, sweepers, scrubbers, scissor or articulating lifts? We supply them all! Whether your needs require you to rent by the day, week, month or even longer, we offer the right equipment to get the job done!
The A.J. Gates Company has a complete inventory of quality rental equipment maintained by our skilled service staff. In addition, we have the equipment to deliver the rentals directly to your facility when you need it! When you request one of our rentals, you receive our commitment.
Quality, safe operating equipment
Required maintenance included
Prompt delivery by our delivery trucks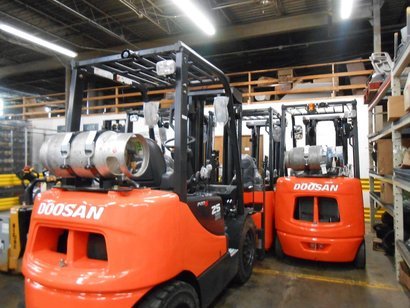 The A. J. Gates Company has been in the material handling business since 1918. We have the collective experience to quote the right rental for the job! Our products are clean, safe and fully operational! Our skilled sales staff will answer your questions and be sure to provide you with the correct piece of equipment for your operation. We follow everything up with prompt delivery. Our sales staff will assist you by providing information regarding the proper rental for your needs. They will also provide sales assistance regarding the operation of the product if needed. Should your rental be a sweeper or scrubber, we also provide the correct brushes and detergent required to do the job.